Printer Friendly
CONTACT INFORMATION
(312) 641-1555
PRACTICE FOCUS
Civil Rights Litigation
Commercial Litigation
Employment Law
Product Liability Litigation
Public Finance
Toxic Tort Litigation
Professional Liability
EDUCATION
J.D., University of Pennsylvania, 1974
B.S., Northern Illinois University, 1970
BAR & COURT ADMISSIONS
Illinois
U.S. District Court, Northern District of Illinois (Federal Trial Bar)
United States Supreme Court
LEGAL EXPERIENCE
Sanchez Daniels & Hoffman LLP (Founder, 1987-present)
Hinshaw, Culbertson, Moelmann, Hoban & Fuller, 1974-1987
AWARDS
Northern Illinois University VALE Award (2000)
NBC/ Hispanic Magazine Vida Award for Entrepreneur (1995)
Raoul Wallenberg International Humanitarian Award in Israel (1998)
St. Augustine College El Puente Award (1999)
Martindale-Hubbell 2022 AV Preeminent Attorney-Judicial Edition
Martindale-Hubbell Highest Peer Review Rating
Law Bulletin Publishing Company/Jury Verdict Reporter 2012 Trial Excellence Award for one of three outstanding Illinois defense verdicts in 2011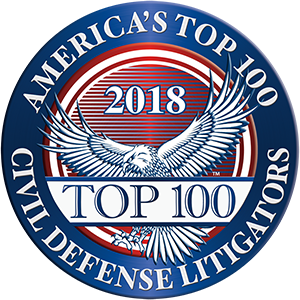 Contact Information
Practice Focus
Civil Rights Litigation
Commercial Litigation
Employment Law
Product Liability Litigation
Public Finance
Toxic Tort Litigation
Professional Liability
Education
J.D., University of Pennsylvania, 1974
B.S., Northern Illinois University, 1970
Bar & Court Admissions
Illinois
U.S. District Court, Northern District of Illinois (Federal Trial Bar)
United States Supreme Court
Legal Experience
Sanchez Daniels & Hoffman LLP (Founder, 1987-present)
Hinshaw, Culbertson, Moelmann, Hoban & Fuller, 1974-1987
Awards
Northern Illinois University VALE Award (2000)
NBC/ Hispanic Magazine Vida Award for Entrepreneur (1995)
Raoul Wallenberg International Humanitarian Award in Israel (1998)
St. Augustine College El Puente Award (1999)
Martindale-Hubbell 2022 AV Preeminent Attorney-Judicial Edition
Martindale-Hubbell Highest Peer Review Rating
Law Bulletin Publishing Company/Jury Verdict Reporter 2012 Trial Excellence Award for one of three outstanding Illinois defense verdicts in 2011
Manuel "Manny" is the Founder and Managing Partner of Sanchez Daniels & Hoffman LLP. Over the past 35 years the firm has earned a reputation as one of the premier civil litigation defense firms in the State of Illinois and has grown into the second largest minority-owned law firm in the United States.
Manny is a highly accomplished trial lawyer, specializing in multimillion-dollar complex product liability, construction, professional liability, employment law and toxic tort defense litigation. He has been the lead counsel and successfully tried to verdict more than 75 cases in both State and Federal Court in Illinois, Missouri, and Indiana. He has received an AV Preeminent peer rating by Martindale-Hubbell for the past 35 years.
Highly regarded by his peers, he is a multi-term elected member of the Illinois State Bar General Assembly, past Co-chair of the ABA Commission on the Jury and was selected as the recipient of the 2013 Distinguished Award for Excellence by the Illinois Bar Foundation.
Manny has represented such high-profile clients as the manufacturer of the motor vehicle which was one of the nine defendants sued by the Reverend Duane Willis and his wife following the horrific burning deaths of their six children. After the global settlement of the case for $100 million, Manny filed a contribution action against the sole non-settling defendant and successfully secured a jury verdict for the client's entire settlement contribution of $10 Million. In the past 5 years, Manny has also secured favorable jury verdicts for several police officers in the largest civil rights case ever taken to verdict in the Northern District of Illinois, secured a not guilty verdict in defense of a racial discrimination/retaliatory case brought by the EEOC, obtained the first not guilty verdict for an automobile manufacturer in a Living Mesothelioma Asbestos case tried in Madison County, and in 2012 received the Illinois Jury Verdict Award for the best ADA/Civil Rights verdict for a case tried in DuPage County.
More recently, in December 2021, Manny secured a favorable "no liability" jury verdict in Cook County in an extended 6-week asbestos trial where plaintiff's counsel asked the jury to render an award of $92.6 million for a 56-year-old insulator who died from mesothelioma against four power plant and refinery defendants as being "fair and reasonable" compensation for the plaintiff's family. The final demand was $25 million.
Manny has been recognized by the Leading Lawyer Network since 2003 in multiple areas of civil litigation work including product liability and toxic tort defense law. He is a Charter Fellow of Litigation Counsel of America. He has also been named annually a Super Lawyer in Illinois since 2006, a recognition given to the top 5% of attorneys in each State.
As Manny successfully grew his law firm, he became actively engaged in the Business, Civic and Not-for-Profit activities in and around the city of Chicago and State of Illinois. Indeed, Manny presently serves on the Boards of numerous business organizations including The Executives Club of Chicago, The Chicagoland Chamber of Commerce, Northstar Advisory Board and Gems International Advisory Board. He is a past Board member of the Economic Club and has been a member of The Commercial Club of Chicago since 1995.
He currently serves on numerous Not-for-Profit Boards including Children's Memorial Hospital, Choose Chicago, Steppenwolf Theatre, Northern Illinois Foundation, Loyola Council of Regents, Northwestern Memorial Foundation and Chicago Scholars.
Since the founding of the Law Firm in 1987, Manny has literally helped raise millions of dollars for eleemosynary causes including Chicago Scholars, Gary Sinise Foundation, and his alma maters, Northern Illinois University, University of Pennsylvania Law School and Holy Trinity High School.
Manny has received four gubernatorial appointments including appointment by Governor Edgar in 1996 to the Inaugural NIU Board of Trustees, where he served for 15 years, appointment by Governor Quinn to the Illinois Sports Facilities Authority in 2011, appointed by Governor Rauner as Chair of the Illinois Sports Facilities Authority in 2015 and reappointed by Governor Pritzker to the Illinois Sports Facilities Authority Board in 2019. Additionally, in 2011 Manny was appointed by President Barack Obama to the President's Advisory Commission on Educational Excellence for Hispanics.
PROFESSIONAL ASSOCIATIONS
American Bar Association
Illinois Bar Association
Chicago Bar Association
Latin American Bar Association
Mexican American Lawyers Association
Defense Research Institute
International Association of Defense Counsel
Product Liability Advisory Council
Society of Trial Lawyers
Trial Lawyers Club of Chicago
BOARD OF DIRECTORS
Benedictine University Board of Trustees (1993-1999)
Chicago United (Membership only)
Chicagoland Chamber of Commerce
Lurie Children's Memorial Hospital
Executives Club of Chicago (2002-2020)
Loyola Council of Regents (2012-2020)
Northern Illinois University Board of Trustees (1995-2012)
Northwestern Memorial Foundation (1999-2021)
Chicago Scholars
Steppenwolf Theater (2000-2021)
St. Ignatius College Prep Board of Directors (1995-2001)
University of Illinois-Chicago Corporate Advisory Board (1994-2004)
Alford Group, Inc. (1995-2006)
Wheelabrator Technologies, Inc. (1992-1998)
NIU Foundation
Choose Chicago
Ounce of Prevention (2014-2020)
PUBLICATIONS & PRESENTATIONS
Seminar Planning Committee Member and Presenter for the 2008 DRI Diversity for Success Seminar
Contribution to "Your Witness, Lessons on Cross Examination and Life From Great Chicago Trial Lawyers" (2008)
Lecturer/Panelist – CLE Programs of Chicago Bar Association, Defense Research Institute, American Bar Association and Chicago Law Bulletin Publishing Company